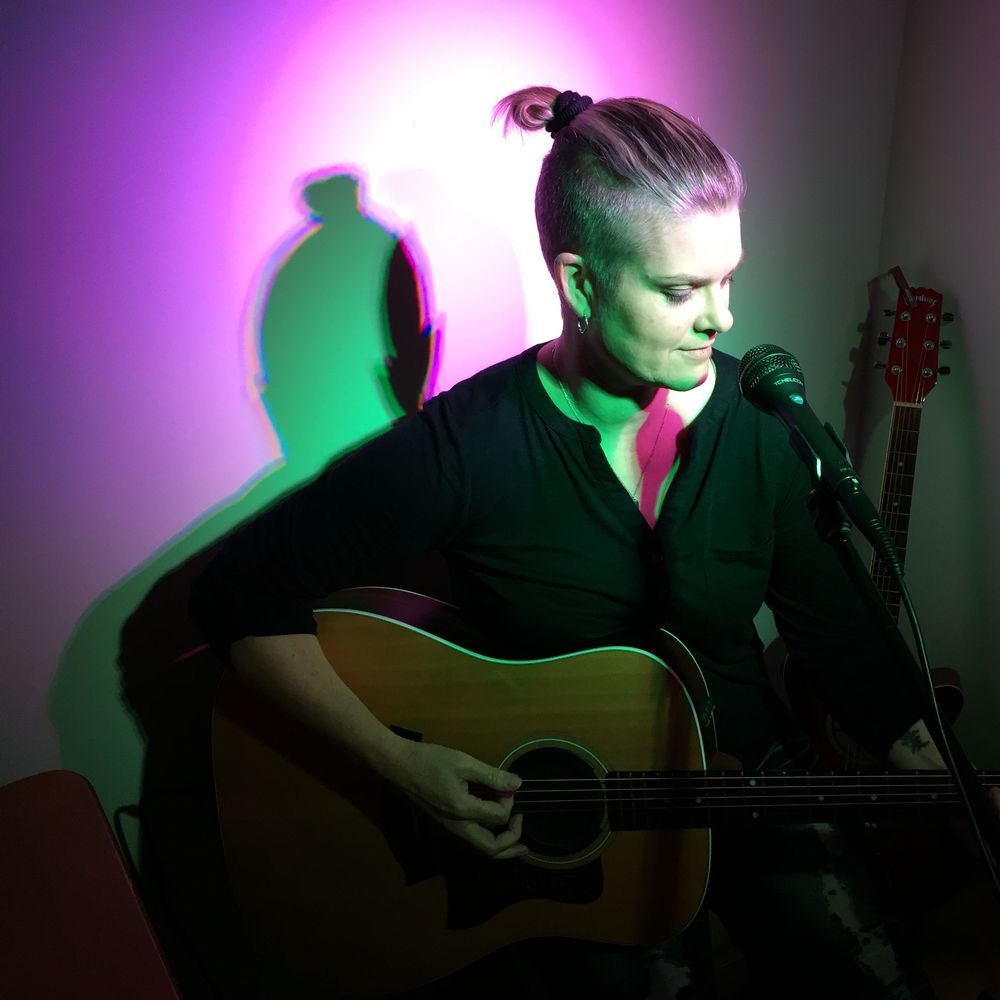 Light it up
Mel Pollard
"...I am awakened, liberated
No longer stagnant and saturated
My eyes are open
I am free..."
It could be said that Australian singer/songwriter, Mel Pollard was born to be a musician. With musicians in the family, Mel's curiosity for music and playing instruments began early. By the time she was around 7, Mel's Dad had taught her how to play the trumpet and read music. She started playing duets with him to entertain the neighbours and this led to her playing cornet in the City of Traralgon Brass Band. But as much as she learned and gained from the brass band experience, Mel knew she was a rock chick at heart and by the time she was 8, she had written her first song. Soon after, Mel started to learn the drums. Her uncle had a kit and showed her the ropes and she enjoyed playing along to her favourite songs. But it was in High School that everything changed, because that's when she was shown how to play a few chords and riffs on the guitar. It was then that she taught herself how to play songs by ear, and finally found the missing link to her song writing. 
Mel joined her first rock band at 16 as a guitarist/singer/songwriter. She has since played in a variety of cover bands, original bands, acoustic duos, trios and as a solo artist. Her 3-piece original band three letter word (in which she was the lead singer/songwriter/guitarist), recorded 1 self-produced EP, another titled Therapy co-produced by Peter "Reggie" Bowman (Southern Sons), and an unreleased album (produced by Michael Puskas, Dead Famous Records). They had songs on community radio, TV (including ABC's Rage) and compilation CDs and were signed to the Dead Famous label in 2008. They unfortunately failed to achieve the success they were aiming for, as the band split soon after due to creative differences. But Producer Mike Puskas was impressed by Mel's songwriting, vocal and harmonising abilities and natural flair for music production so he hired her as a studio vocalist and used her vocals on numerous projects. He also contracted her to produce songs for him out of her own studio, and when the opportunity came for him to produce an album in LA with Canadian artist Kaleigh Jo Kirk in 2009, he invited Mel along to sing backing vocals and also be part of a documentary they were filming. After LA, they ventured to Phoenix, where Mel also lent her vocal harmonies to a song by local heavy band Danger Silent.
Early in 2010 Mel joined forces with Gippsland-based musician (now Speaker/Author/Podcast-host) Kerryn Vaughan, to form original-music duo She Said.  The pair recorded a 4-track EP in Mel's studio and played numerous gigs in Melbourne and Gippsland, creating a buzz wherever they went.  Unfortunately, due to personal reasons Mel was forced to leave the duo later that year and also took an extended break from the music industry.

It would take another few years before Mel got back to producing songs for herself and others and performing live again in Melbourne and Gippsland. Getting back into the saddle included a 3 year residency at Star Bar inTraralgon (2015-2018) and many other regular gigs throughout Gippsland, Melbourne and the Peninsula as a solo performer and singer/guitarist in cover duo Sweet Sundaze and bands MP three & Back to Stone.
In November, 2015, Mel supported one of her idols, Aussie rock goddess Sarah McLeod (from the Superjesus), at the Latrobe Valley Hotel in Morwell, Victoria. As well as the Baby Animals, Alanis Morissette, Sheryl Crow and countless other inspiring female-fronted acts, the Superjesus were instrumental in Mel's musical development. 
In September 2016, Mel performed on Live at Spectrum - a ground-breaking, livestreaming-internet-based TV program, beaming live music video out to the world (before later being available in HD on YouTube and broadcast on C31 Melbourne and Foxtel Aurora). Her performance on the show was applauded by people from all over, and since then, many doors have opened for her - including being offered the role of co-host on the show after it became available in early 2018. Mel took on the challenge and made it her own for almost 2 seasons until the final episode in November 2019. 
A multi-instrumentalist with teaching experience in schools in West Gippsland and the Latrobe Valley in the early 2000's, Mel was snapped up by the Meg Doherty Music School to teach music in West Gippsland in late 2018. In September 2019, Mel branched out on her own and now teaches privately. 
Mel continues to write, produce, record, host and perform regularly in pubs, restaurants, cafes and in corporate and private settings.
Recently, she was invited to headline the opening ceremony of the #OGC2020 (Our Global Classroom) Summit in Gippsland and the Gippsland Pride Initiative Gala. Both events have been postponed due to Covid-19, but will be going ahead at a later date. 
In the wake of Covid-19, Mel produced a song and video called Quarantine (a Parody of the Abba classic, Dancing Queen). The video has been shared hundreds of times on social media and viewed almost 10,000 times. 
Mel was also a featured vocalist on the Gippsland-produced, Mass Online Band cover of INXS's Never Tear Us Apart, and contributed her voice to the Kutcha Edwards' song, We Sing, (released on August 28, 2020) as part of a choir alongside the likes of; Paul Kelly, Archie Roach, Judith Durham and David Bridie.
Mel continues to work on her album and perform live online. Her debut single, Lose Control was released digitally on September 1, 2020 and was followed by the catchy Don't Let Go which was released on February 13, 2021.
Playing, singing and doing everything herself, Mel recorded  Lose Control in her apartment in Melbourne during lockdown because of Covid-19. Her philosophy being, "if you can't get to the studio to work with the big guns, maybe you just need to sit down with some gear and do it yourself." And that is exactly what she did.  Don't Let Go was also recorded under very similar circumstances. 
Lose Control and Don't Let Go are available in all major online stores for digital download and streaming now.
With COVID restrictions being eased significantly in November 2021, Mel had the opportunity to support the amazing Aussie band, the Chantoozies at a sold out show at The Bundy Hall in East Gippsland on November 13.  
In 2022 more gigs and events were able to go ahead - the highlight being a dual role as MC/host and performing artist at the 'Women in Gippsland' 2022 International Women's Day event, featuring guest speak Em Rusciano.
2023 marks a bigger year for Mel as gigs and events go back to normal. Check out the shows page for more info and stay tuned!
For further information or to book Mel for your event, please get in contact by pressing the button below.